Link building is the cornerstone of every well-thought growth strategy. And while trading these links may seem like smooth sailing, in the beginning, things get more and more complicated over time.
Even the simplest websites have thousands of links, making it impossible to track them on your own. That's why you need a plugin to do the heavy lifting. So, you can focus on what you want to do most anyways, working on your site and writing.
WP Links
WP Links is straightforward and to the point, unlike some plugins you've undoubtedly encountered in the past. With the help of this plugin, you'll be able to have control over every link on your website – and it won't take a lot of effort either. Despite its simplicity, this plugin has every you could need. It even comes with a fantastic link detector that ensures all your links are authentic and verifies whether they function or direct users to harmful websites.
WP Links also allows the user to create an exit confirmation popup. When users click an external link and are about to leave your site, this feature shows a programmable popup message. The WP Links unified dashboard lets you manage several sites from one location, so no matter how many sites you're in charge of with WP Links, you can remain organized. All of your websites, brands, licenses, and purchases will be in one location.
And as if that wasn't enough, WP Links offers rebranding without any coding. Plus, should you ever encounter any issues, or a bump in the road, you can be sure that the customer service you receive is knowledgeable and courteous because most of those who provide it are developers who contributed to the plugin. Now, let's delve deeper and see what this plugin can do.
External and Internal Links
External and internal links are the two types of links that build the internet. Internal links connect visitors to a different page on the same website whereas external links take users to other websites. And, while WordPress doesn't really have any features that allow you to control these. WP Links does.
External Links
The first tab in the plugin settings lets you control external links. And when you turn on the "settings for external links" option, a new group of settings appears below.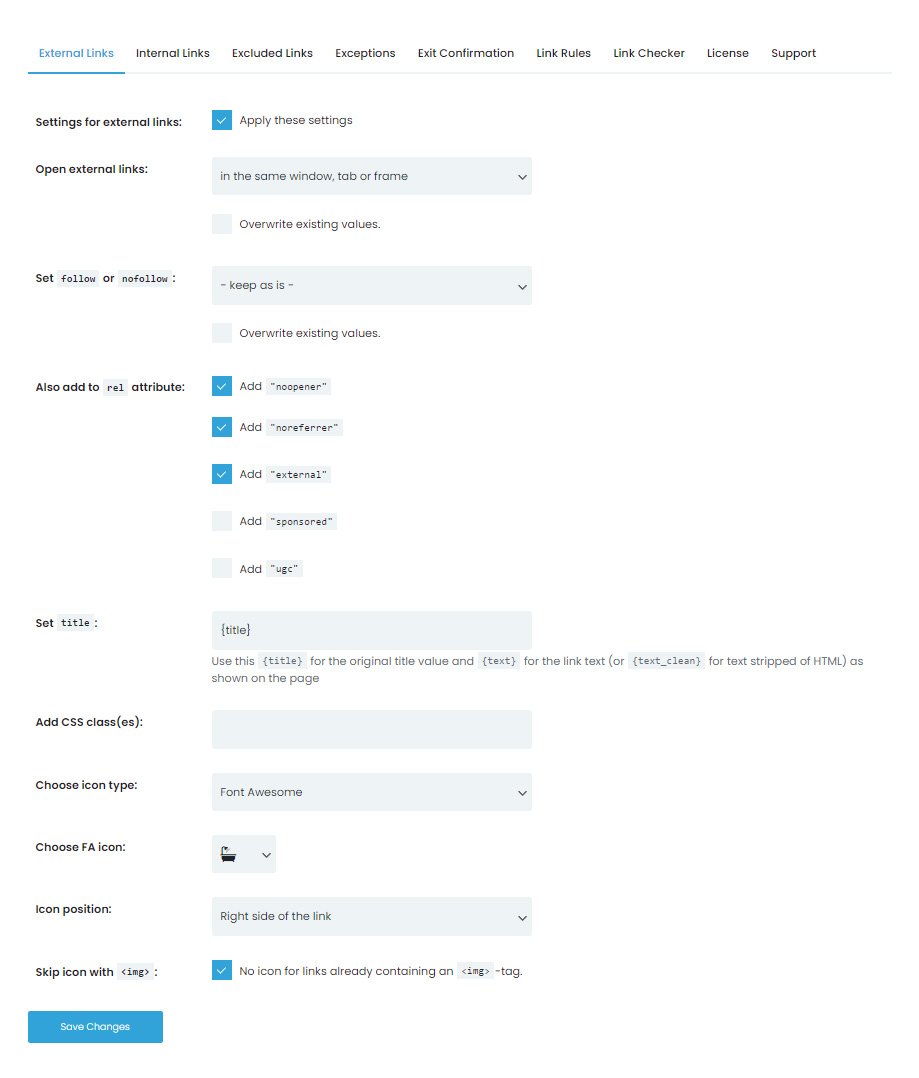 Once you have all the settings as you want them, all there is to do is click on " Save changes" and let the plugin do its magic,
You can set a link as a follow or nofollow, to make sure there aren't any dangerous links on your site. There's also an option to ad a rel attribute to any link of your choosing.
Adding "noopener" prevents potentially malicious sites from taking control of your site, and adding "noreferrer" prevents sending refer information to linked sites. You can also add an "external" attribute to mark the link as an external link, add "sponsored" to mark a sponsored link and also add "ugc" for user-generated content.
If you want to display icons next to outgoing links, you can select one and save settings.
There are three options for selecting icons:
Image – you can select an image to upload from your computer
Dashicon – you can choose one of the existing WordPress icons
Fontawesome – you can choose one of the Fontawesome icons
You can also change the position of your icon, set titles, and add specific CSS classes to your external links.
Internal Links
Internal links can be opened in various ways, just like external links. This tab is essentially the same, as the previous one, only it applies to internal links and not external ones. Again, you cam select the attribute to which you wish to add your internal links and apply the follow or nofollow tags; but, this time, you can only select the noopener or norefferer tags. There are also options to set your title, CSS classes, and icons, so the rest is standard.
Exceptions
Some links, posts, or pages can be made into exceptions and function according to a different set of rules than the others. You have complete control over any exceptions here.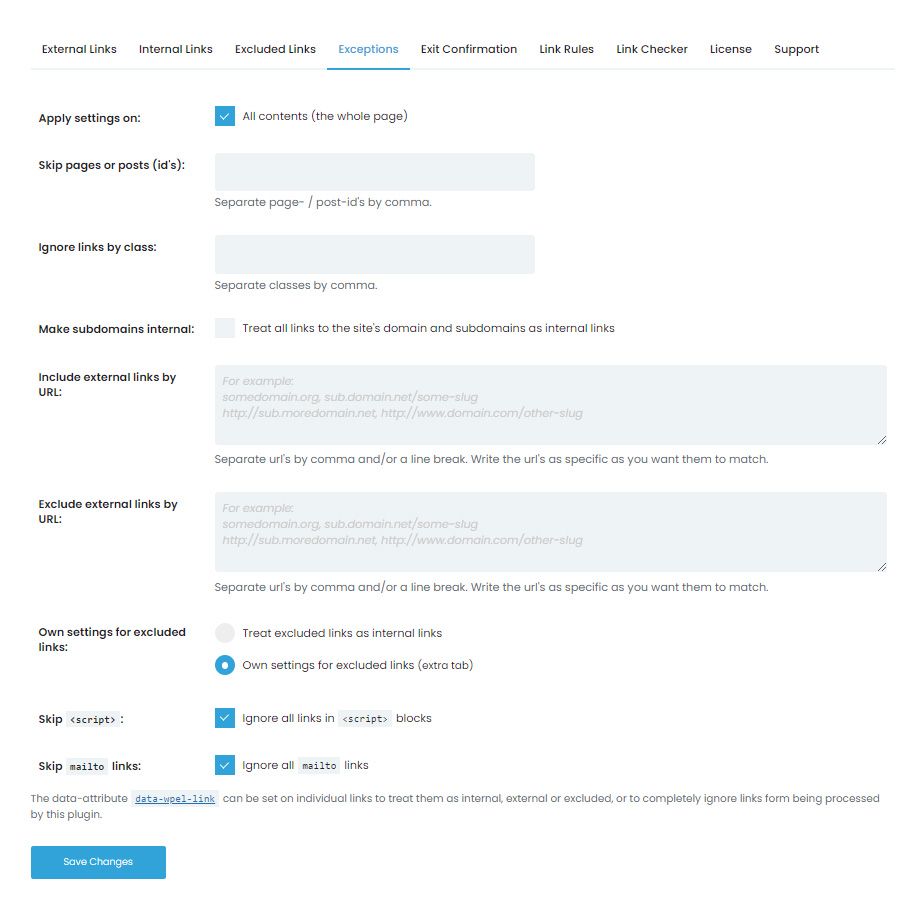 Open the post or page in your admin toolbar and look at the URL to identify the post or page ID that needs to act differently. When you modify a particular post, the URL should read "post=1234", where "post=1234" is the post ID.
Links from a particular class can also be made into rule exceptions. The settings allow you to specify your favorite class, and the plugin flags the links as exceptions. If you include your homepage here, for instance, all links to it and its pages will be handled differently.
Exit Confirmation
These popup notifications are probably familiar to you because their primary function is to alert the user that they are about to leave the website. By doing this, you can avoid being held liable for any malware a user might encounter after clicking on an external link on your website. The popup's title can be typed in here, and you can also change the background and text colors for the title. Your title text's size can also be changed here.
You must then add the text that appears in the popup. Ensure that this text is succinct and uncomplicated. The letter size, color, and backdrop of your text can all be changed, just like the title.
Once everything is set up, you can modify the popup's height and width. Once the popup is displayed on the screen, you can also decide whether or not you want a translucent overlay over the background. Additionally, you can choose whatever color you choose for this overlay.
Link Rules
Regardless of the number of links and their properties, WP Links enables you to customize link rules that regulate any link.

Every link containing a keyword can be identified, and rules can be made based on that term. For instance, any link (for instance, www.booksreviews.com) can have an icon that the user specifies if the URL contains the word "book" as the keyword for the link rule.
Link Checker
Fortunately, you won't need to personally examine each link on your website to find out which ones are problematic. The plugin takes care of all the work in this final stage. With only one click, the plugin scans your entire website, producing a list of "bad" links for which you can subsequently specify rules. You will get a thorough report identifying the links that lead to dangerous websites, nonexistent (404) websites, and redirects.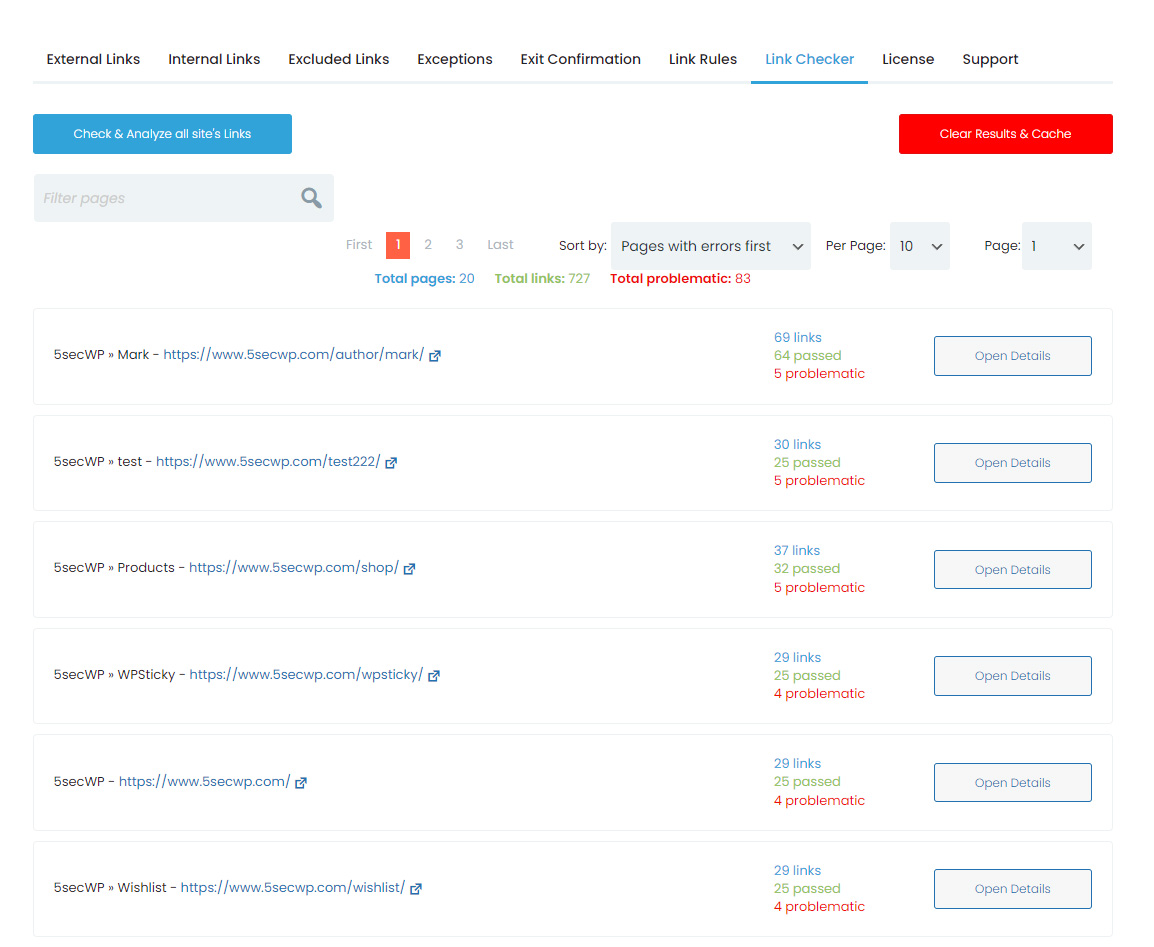 This is an easy way to check that the rules you've established for your website are being followed. It takes only a couple of minutes to complete the process. And don't worry, it won't slightly slow down your website!
Overall
WP Links is a must-have plugin for any site owner that takes their business seriously. It has a slew of useful features but still remains user-friendly and easy to navigate. Try it out. You won't regret it.