Whether you're just starting out or have been in the e-commerce game for a while, you might be interested in what we have to say today. The days of trying to track down that cool tee you saw on your favorite brand's Instagram feed are long gone.
You can now add shoppable tags to photos of your products, making the process of redirecting users to checkout that much easier.
And if you need more, Power BI Shopify integration is something to check. It is a smart solution to run a successful e-commerce business.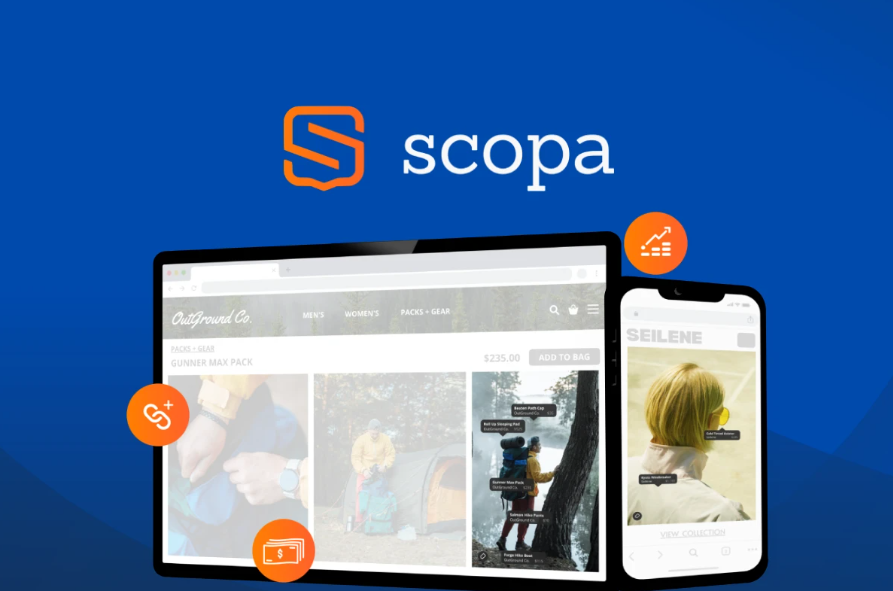 This reduces the time it takes users to engage with and consider purchasing your product, thus increasing your revenue. But how exactly do you go about doing that? Don't worry, we've got you covered. We'll look at Scopa-Shoppable Product Tagging and demonstrate how you, too, can quickly add shoppable tags to your product photos. Without further ado, let's get started.
Gather and Tag Your Images In One Place
If you're looking for a way to easily add shoppable tags to your products, you can do so by using Scopa. All you have to do is copy and paste the URL of your website, and Scopa will scan and collect all of your product images in one place. Once you have each image rounded up in one place, you can then proceed to add your product links, descriptions, and prices.
This no-code tool was specifically designed to appeal to anyone managing an online store, so it's pretty simple to use. No muss, no fuss—add tags quickly and easily to boost your average order value in no time.
Customize Tags To Match Your Brand
After you've added your tags, you can customize them to match your brand. Create a custom theme by selecting the appropriate colors and tag styles, then save it for later use.
This feature alone may be enough to entice someone to click on your product, so spend some extra time making it as visually appealing as possible. Having a consistent and polished look to your tags ensures that your brand image remains impeccable, so jump on board and get creative with it!
Preview and Adjust Your Tags
Scopa gives you the option to see a preview of your tags after you've added and customized them. Assess each issue that may arise while browsing these tags and quickly go back and adjust them for a better overall user experience. It's also worth noting that Scopa allows you to customize how your tags appear to desktop and mobile users, so make sure you test them out for both.
Making your image tags easy to navigate increases the likelihood that users will return for more. Optimize your tags and watch your revenue skyrocket; don't worry you can thank us later.
Gain Detailed Insight Into Product Performance
Now that your tags are live, you can use Scopa to gain detailed insight into your performance analytics. Analyze impressions, hovers, clicks, and other metrics to determine which of your products are hits and which are flops. Scopa integrates with Google Analytics and other e-commerce platforms to provide you with the most accurate results every time you want to see how well your products are performing.
This can greatly assist you in determining which products to promote more aggressively and which to discontinue entirely. At the end of the day, why would you waste resources on something that simply no longer works?
Other Features
Now that we've covered the key features of this must-have online store tool, let's quickly go over what else you can expect if you purchase one of the two available license tiers. Scopa allows you to remove the tool's watermark and integrate it with other e-commerce platforms such as Wix, Shopify, WooCommerce, and others.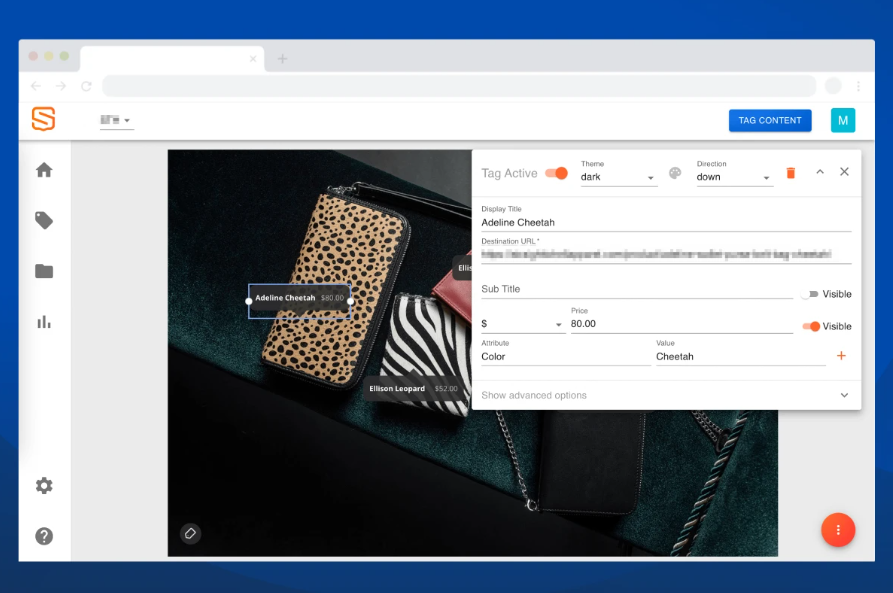 You can also use Scopa to publish all of your tags directly to the website of your desire and add an unlimited number of tags to each image. Because Scopa supports so many integrations, you can do all of your tagging business from a single location, saving time when managing and analyzing your posts and metrics.
Pricing and Plans
You're probably thinking right now, "Okay, I really like this tool so far; how much is it?" As previously stated, Scopa currently offers two license tiers that include all of the features discussed today. License Tier 1 costs $69 and includes one account, 200.000 monthly sessions, and an unlimited number of users, tags, and images.
License Tier 2, on the other hand, allows for 5 accounts and an unlimited number of monthly sessions for a one-time payment of $139. It's worth noting that these deals are not stackable, but you can easily upgrade or downgrade between the two tiers, depending on the size of your business and team.
Conclusion
The existence of tools like Scopa attests to the importance of using social media channels to sell your products. People simply do not have the time to go through your website every time they want to purchase a product they saw in an Instagram post.
If you make your products easily accessible through tags, you'll quickly see how your small online store expands into something much, much bigger. Be sure to give Scopa a try right away—you won't regret it.