Whether you are taking on a new project that has you overwhelmed or you are struggling to make sense of your content, do not worry. Creating a digital whiteboard to visualize all your ideas is easier than you think, and we are going to show you how to do it using a single fantastic tool – ContextMinds.
What is ContextMinds & how does it work?
ContextMinds is an advantageous mind-mapping solution that helps you visually organize your content ideas with the help of AI-generated keyword suggestions. This means that you can easily research, organize, and visualize all your business and content ideas with user-friendly mind maps and boards, whether you are working alone or as a member of a team. Its powerful AI assistant essentially generates topics and keywords for you in real-time.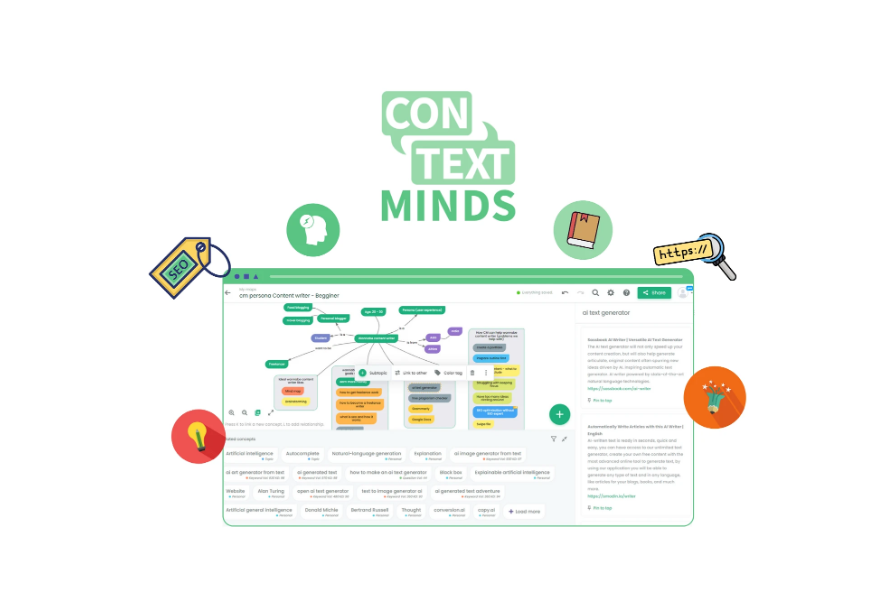 Navigating ContextMinds requires no design or programming knowledge whatsoever because all the AI-generated keyword suggestions can be easily added to your digital whiteboard with a simple drag-and-drop tool. ContextMinds also allows you to add resources, videos, and other visual elements to your pinned notes, making sure you never lose track of your research.
By clicking on a topic or keyword, you can dive into more keyword metrics, SERP results, academic papers, and even short AI-generated paragraphs that can add value to your project.
Every digital map created with ContextMinds can be shared with your clients and team members, making sure they are always up to date with the latest changes. Simply export it to your map as a PDF, PNG, SVG, or text document, or share it via the link anyone can access, regardless if they have ContextMinds account or not.
However, one of the best features of ContextMinds is that it saves and learns everything you create, meaning that you will never lose another content idea again. With the help of its smart AI technology, you can find topics and keywords from maps you have previously created and used, immediately accessing all the pinned notes and resources.
The ContextMinds app consists of three main sections: whiteboard, related concepts, and concept details. In order to get started, simply click the add button or double-click to start searching your initial topic. You can use filters to narrow down your search, whether you want to search by keywords, trending topics, questions, or something else.
Once you have chosen the specific topic, you can explore the research about it in the concept details section, and even make notes. Lastly, the related concepts section is used to suggest all the related topics that can enhance your mind map, coming up with new ideas so you do not have to.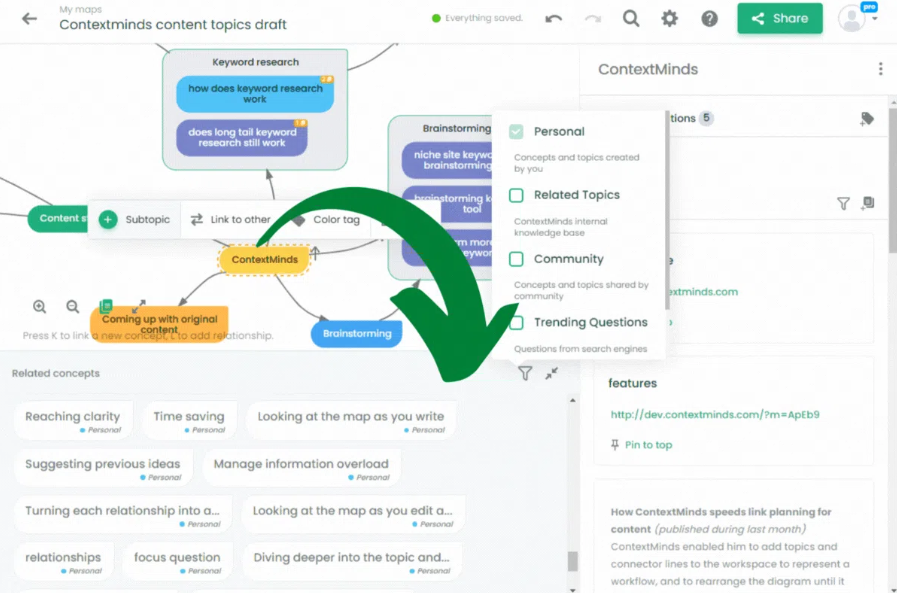 With ContextMinds, you can come up with original content ideas that will dominate search results, whether you need to create content outlines, briefs, or even a whole strategy from scratch.
Its powerful AI database will make sure you never run out of creative ideas. Now as part of a special offer, ContextMinds is available as a lifetime deal and comes with a 60-day money-back guarantee, which means you have two whole months to try out all the fantastic features it offers.
Conclusion
When brainstorming and planning your content, visual mapping is one of the best ways to keep all your ideas in one place, as well as make them available to clients and team members.
Proved to be one of the best mind-mapping solutions for bloggers, content creators, and marketers, ContextMinds is going to forever change the way you look at mind-mapping, ensuring you always come up with the best, SEO-generated content ideas that will leave both you and your clients satisfied.