Welcome to our review of WP Login Lockdown – a powerful plugin designed to strengthen the security of WordPress websites. Whether you are an experienced WordPress user or just starting out, it is essential to protect your site from malicious actors. WP Login Lockdown is designed to help you do this effectively, by blocking malicious IPs, limiting login attempts and providing detailed reports about failed logins.
Introduction to WP Login Lockdown
WP Login Lockdown is a security plugin that offers protection against brute force attacks on WordPress login pages. The plugin provides users with a comprehensive solution to secure their websites from unauthorized access attempts by locking out hackers, bots and other malicious activities.
Easy to use and install, WP Login Lockdown offers advanced features such as custom login URLs, IP blocking, CAPTCHA support and user activity logging. These features make it an ideal tool for website owners looking to protect their online assets from potential threats.
With its intuitive interface and robust security features, WP Login Lockdown is the go-to choice for website owners who want to maintain control over their WordPress login pages. By implementing this powerful plugin into your website's security arsenal, you can rest assured that your site is protected against any unauthorized access attempts while providing seamless user experience.
Features
The WordPress plugin WP Login Lockdown can be purchased directly from the WordPress website. It is easy to set up and configure and puts on countless security features to WordPress login forms. Some of them include:
Brute Force Attack Prevention
The number of brute force attacks on WordPress sites has been increasing rapidly over the years. These attacks can cause irreversible damage to a website, leading to data loss and loss of reputation. WP Login Lockdown is a WordPress plugin that aims at preventing brute force attacks on WordPress login pages.
The plugin features an easy-to-use interface that allows website owners to configure settings such as the maximum number of login attempts before a user is locked out, the duration of lockouts, and whitelisting IP addresses. In addition, WP Login Lockdown offers real-time monitoring capabilities that allow site owners to track login attempts in real-time.
One key feature that sets WP Login Lockdown apart from other similar plugins is its ability to block access not just based on username and password combinations but also based on failed email or 2FA authentication attempts. This ensures maximum security for your website against brute force attacks. Overall, with its robust features and ease-of-use, WP Login Lockdown is a must-have plugin for any website owner looking to protect their site against malicious attacks.
Customizable Settings
One of the most important aspects when it comes to website security is having control over your login settings. With WP Login Lockdown, users have the ability to customize various settings that suit their specific needs. Some of these customizable features include limiting login attempts, setting time limits for failed login attempts, and even white-listing IP addresses.
Limiting login attempts is incredibly important as it prevents brute-force attacks on your website. Attackers will often use automated tools to try and guess your password by trying numerous combinations in quick succession. By limiting the number of times someone can try and log into your site, you reduce the chances of a successful attack.
Another feature that WP Login Lockdown offers is the ability to set time limits for failed login attempts. This means if a user tries to log in with incorrect credentials too many times within a certain period, they will be locked out for a set amount of time. This feature not only adds an extra layer of security but also reduces unnecessary load on your server from repeated failed login attempts.
Overall, WP Login Lockdown's customizable settings allow users to tailor their website security measures based on their specific needs while ensuring maximum protection against potential threats.
Email notifications
Email notifications are an important aspect of any security plugin, including WP Login Lockdown. The plugin sends email alerts to the site owner every time a suspicious login attempt is detected. This allows the site owner to take immediate action and protect their website from potential attacks.
In addition to sending alerts about suspicious activity, WP Login Lockdown also offers email notifications for successful logins, failed logins, and password changes. These notifications can be customized according to your preferences and give you complete control over your website's security.
Overall, email notifications are crucial for maintaining the security of your WordPress website. By using a plugin like WP Login Lockdown that offers customizable email alerts for various activities on your site, you can stay on top of any potential threats and keep your website safe from harm.
IP Whitelisting and Blacklisting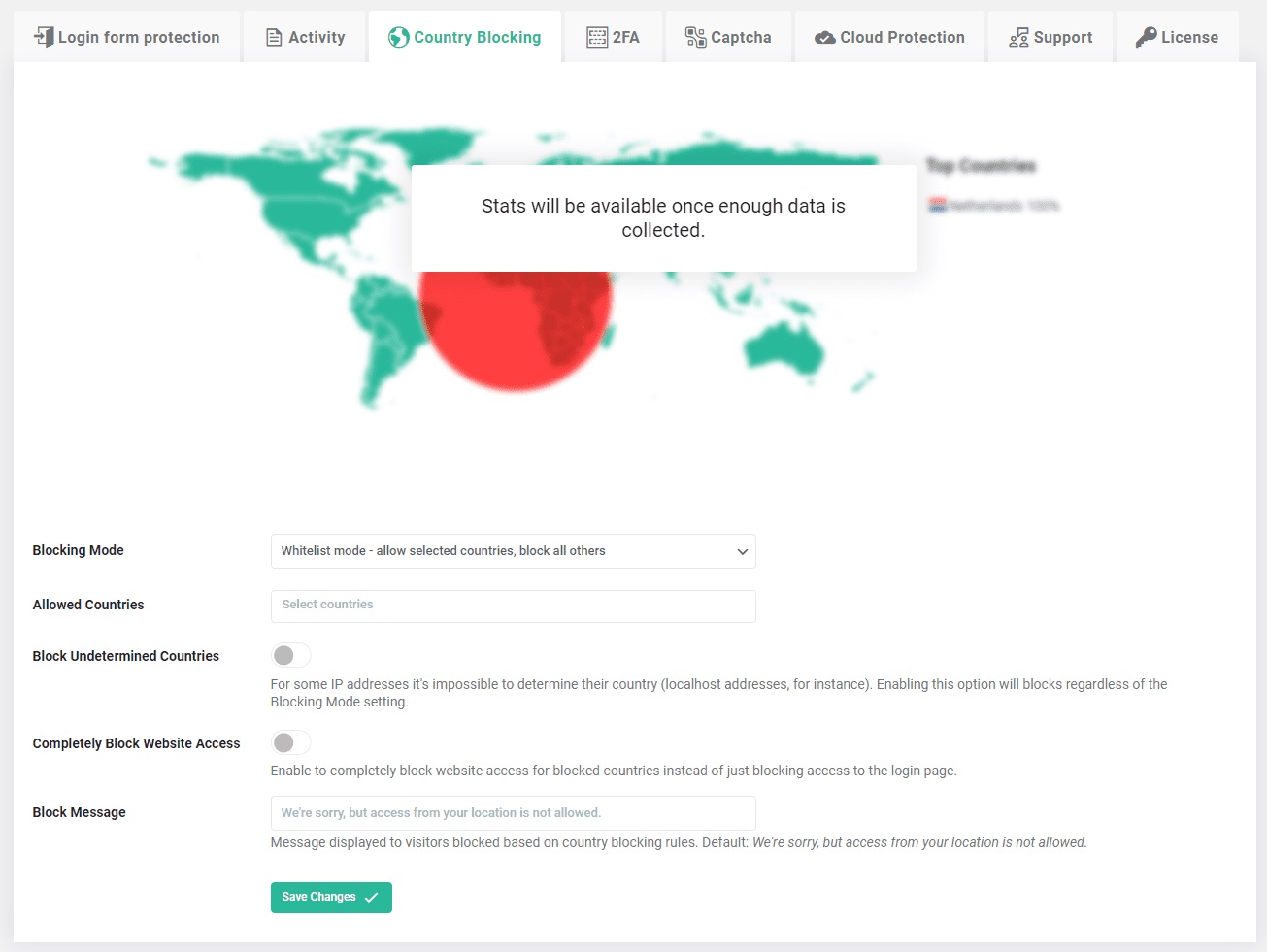 IP whitelisting and blacklisting are two powerful security measures that can be used to protect your website from unauthorized access. IP whitelisting involves creating a list of trusted IPs or IP ranges that have permission to access your website, while IP blacklisting is the process of blocking specific IPs or ranges from accessing your site.
Whitelisting allows only pre-approved users to access sensitive data, ensuring that no unauthorized entity gains entry into the system. This is especially useful in scenarios where there are a limited number of users who need access to the system. Blacklisting, on the other hand, blocks unwanted traffic from specific sources and prevents malicious activity on your website.
Using WP Login Lockdown Review with these features helps you manage user logins more effectively by allowing you to block suspicious activities such as brute force attacks and login attempts from known malicious IPs. By implementing both whitelisting and blacklisting techniques for protecting your site, you can create an added layer of protection against cyber-attacks and prevent potential damage to your online assets.
Compatibility
WP Login Lockdown can deploy in conjunction with a majority of WordPress themes and extensions, making it a flexible security solution. It works with several sites, letting you safeguard every one of your WordPress sites through a single dashboard.
Custom Login URL
You are able to customize your own WordPress login page URL using WP Login Lockdown, making it more difficult for hackers to access your protected login page.
Easy To Use
The plugin's setup is easy and simple, even for users that are not tech-savvy security specialists. It features an intuitive user interface that allows you to configure the settings with few clicks.
Two-Factor Authentication
WP Login Lockdown supports two-factor authentication, adding more security to your WordPress website's login page. Before they can access the website, they have to enter a verification code sent to their registered address or mobile device.
Password Strength Enforcement
The WordPress plug-in enforces strong password policies, requiring all users to set up strong passwords to manage their accounts effectively.
User Login History
WP Lockdown keeps track of user login history, allowing you to see who and when accessing your website. WP Log Lockdown can utilize this feature in following up on suspicious login attempts and unauthorized logins.
Main Functions
WP Login Lockdown is a plugin that enhances the security of your WordPress website by limiting failed login attempts. The plugin allows you to set up an automatic lockdown period after a certain number of failed login attempts, thus preventing brute force attacks. You can also whitelist specific IP addresses, so authorized users won't be locked out during a lockdown period.
In addition to its lockdown feature, WP Login Lockdown offers several other functionalities that help protect your website against unauthorized access. For example, it lets you customize error messages displayed on the login page and choose whether or not to display the username field. You can also set up email notifications for various events, such as when an IP address is locked out or when someone logs in successfully.
Customizable Lockout Messages
You can change the accent text that shows to users when they are locked out of the login page by means of WP Login Lockdown. You can use this message to inform users about the lockout duration, provide guidelines to reset their password or include any other pertinent details.
IP Address Whitelisting
You can set whitelisted IP addresses apart from the declined IP address list so that those addresses are not locked out as a result of failed login attempts. In such a situation, whitelisting high-ranking administrators or developers becomes especially important.
Login Attempt Monitoring
All login attempts on your website are logged by WP Login Lockdown. Any suspicious login attempts will show up in your WP Login Lockdown dashboard. Based on this record, you will be able to ascertain possibly fraudulent login attempts and take measures to correct them.
Free vs Paid Versions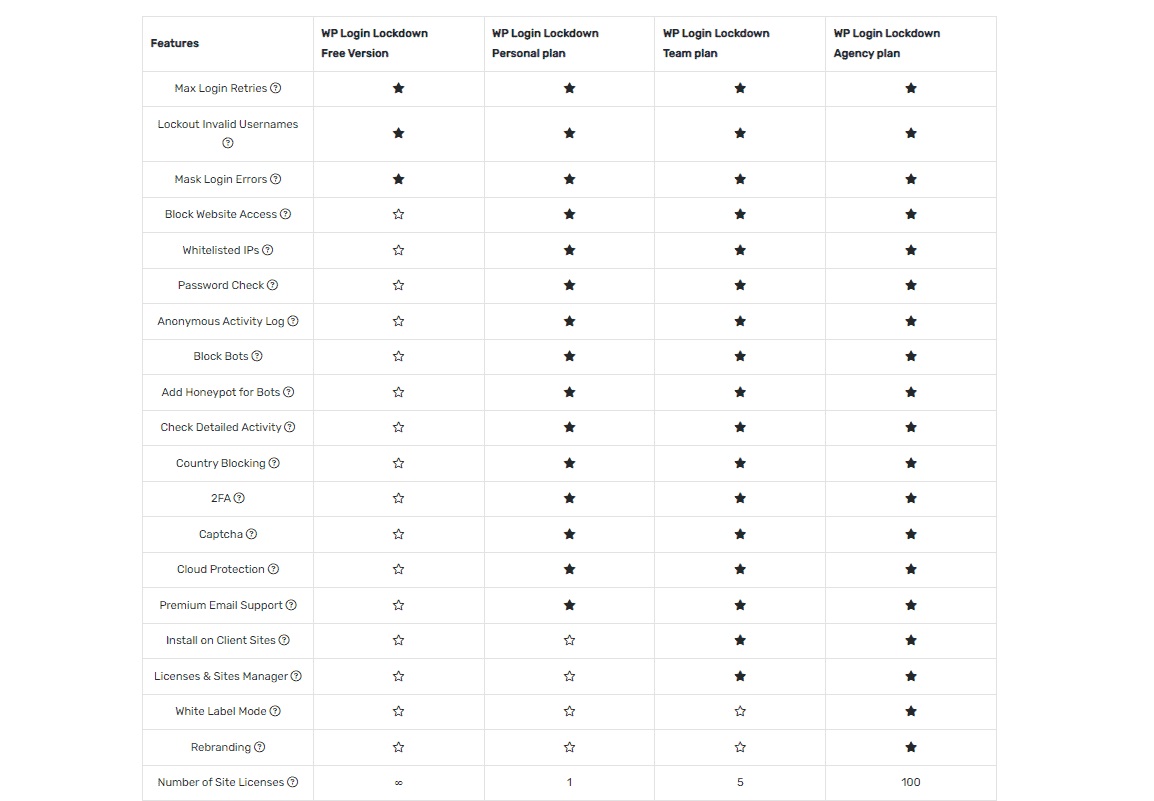 The WP Login Lockdown plugin is a security tool designed to prevent brute force attacks by limiting the number of login attempts. The free version of the plugin provides basic protection, allowing users to limit login attempts and set lockout periods after a certain number of failed attempts. However, for more robust features such as IP blocking and email notifications, users will need to upgrade to the paid version.
While the free version may suffice for smaller websites or blogs with low traffic and fewer users, larger sites with higher traffic volumes are likely to benefit from the added features offered in the paid version. Furthermore, businesses or individuals looking to protect sensitive information or transactions may find investing in the paid version worth it for peace of mind.
Ultimately, whether to opt for the free or paid version depends on individual needs and priorities. While cost can be a factor, it's important to consider what level of security is necessary for your website or blog and make an informed decision based on that assessment.
Pricing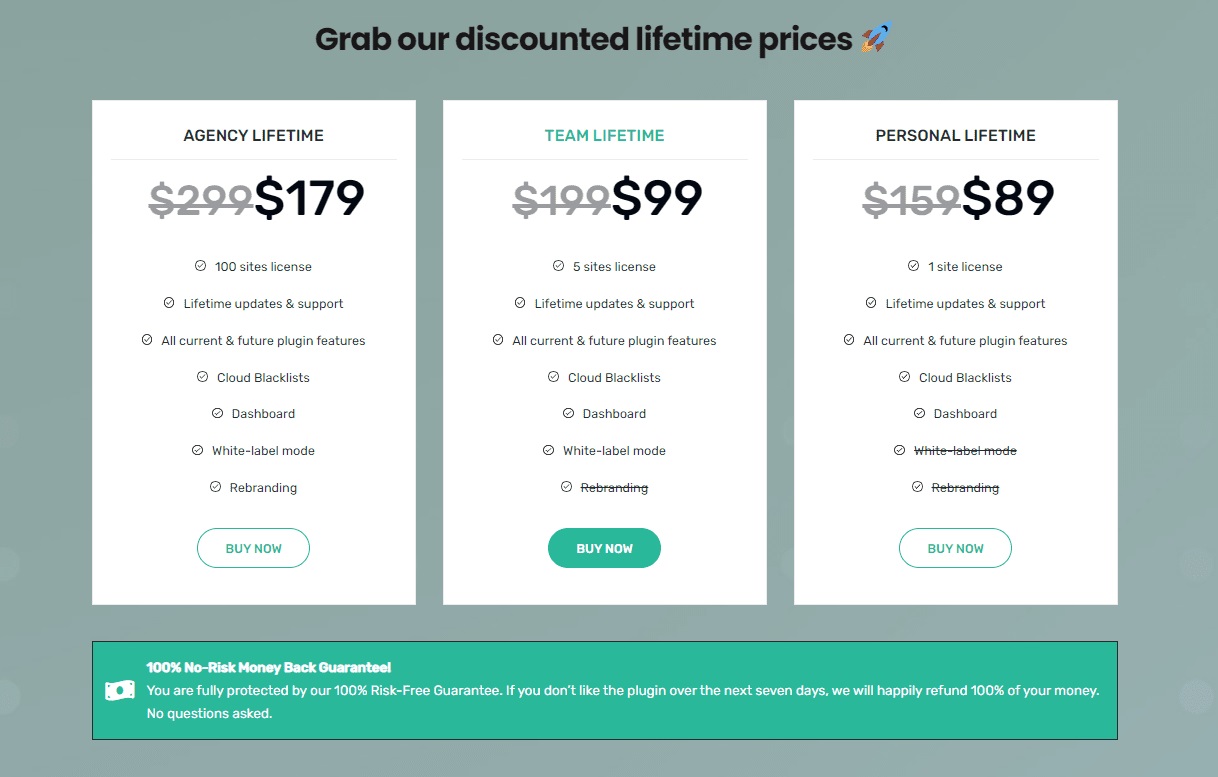 WP Login Lockdown is a cost-effective plugin that provides outstanding worth. This plugin offers 3 plans with lifetime licenses. The Personal license costs $89 and gives you access to a single site license, lifetime updates and support, cloud blacklists, and the dashboard.
The Team license costs $99 and gets you obtain 5 site licenses, and White-label mode on top of the features listed above. The Agency license costs $179 and offers 100 site licenses with Rebranding, in addition to all the previous features. The White Label mode plugin is regularly updated and maintained in order to promote the latest security measures.
In addition, there is a 30-day money-back guarantee. If your plugin is not to your liking, you are able to take back the money back within 30 days. This indemnification policy shows the high quality and best performance of your plugin.
FAQ
1. How does WP Login Lockdown work?
WP Login Lockdown is a plugin that provides an additional layer of security for your website's login page. It works by limiting the number of login attempts from a single IP address in a given time period. After a certain number of failed attempts, the plugin will block access to the login page from that IP address for a set amount of time.
2. Is WP Login Lockdown easy to use?
Yes, WP Login Lockdown is very user-friendly and easy to set up. Once installed and activated, it requires no further configuration or setup on your end. The default settings are already optimized for maximum security, but you can also customize them according to your preferences.
3. Does WP Login Lockdown affect my website's performance?
No, WP Login Lockdown has been designed with efficiency in mind and should not slow down your site or affect its performance in any way. The plugin runs seamlessly in the background without causing any noticeable impact on your server resources.
4. Can WP Login Lockdown be customized?
Yes, WP Login Lockdown can be customized according to your preferences and requirements. You can set the number of failed login attempts before the user is locked out, as well as the duration of the lockout period. Additionally, you can whitelist certain IP addresses so that they are not affected by lockdown rules.
Conclusion
In conclusion, WP Login Lockdown is a must-have plugin for any WordPress website owner concerned with security. It provides an easy-to-use interface and simple configuration options to restrict login attempts and protect against brute force attacks. The plugin's ability to limit the number of login attempts per IP address and block malicious users makes it a valuable addition to any security setup.
Overall, WP Login Lockdown is an excellent tool for fortifying your WordPress site's security. It can help prevent unauthorized access and protect sensitive information from hackers with malicious intent. The plugin is easy to install, configure, and use, making it accessible even for those without technical knowledge or experience in website security.