When you make a video or an audio file, that file will be in the language that you have recorded it in, most probably your native language. Transcribing can be difficult if you are doing it on your own because you would have to spend many hours listening to the tape back and trying to write every word and sentence correctly. That's why it would be helpful to have a tool that can do it for you and transcribe all your video and audio files in multiple languages in real time – that tool is called One Transcriber.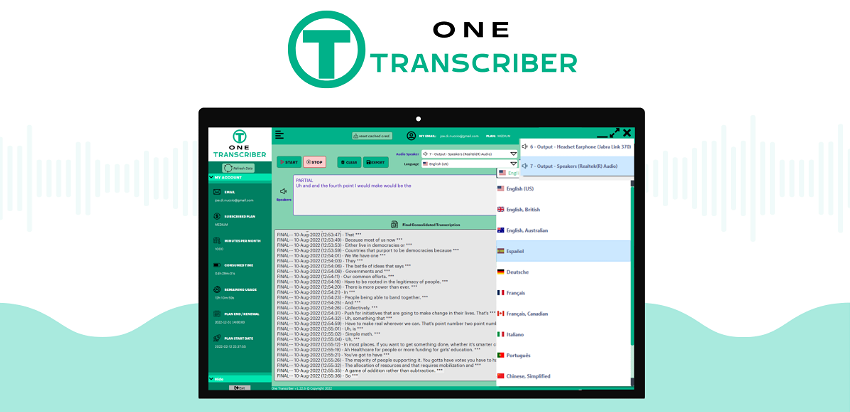 As we have previously mentioned with this tool you can transcribe video and audio files in multiple languages including English, French, German, Italian, Spanish, Chinese, and many others. You can already see how many possibilities are out there and you can even try it out and see how you like it first because there is a free trial for this tool. This tool will generate automatic streaming captions which means they won't be delayed and you will know what's going on at every moment.
Having automatic streaming captions is amazing for meetings done over streaming Internet platforms such as Zoom or Teams because you won't need to transcribe the recorded meeting afterward and be stressed out because you might not understand what's going on during the meeting. Your meetings can be transcripted in real-time with transcriptions done in multiple languages with One Transcriber! Not only can you use this in meetings, but you can also use it in lectures and help yourself while learning a new language.
We all know how helpful Duolingo is while learning languages, well One Transcriber can be as well because you can have live captions during lectures or any other recorded material and help yourself while learning. This can be used during podcasts as well because you can have captions in whatever language you would like to have them with this tool and enjoy your favorite podcasts the right way. The language barrier is not a problem anymore!
Closed captions can be generated easily with your subtitles and you can have timestamps on all of them so they are displayed at the right time. Every transcript will always be available to you so you can review it later on if you feel the need to do that. As we have said, timestamps will be put on every transcription and they can help you with editing your transcripts or you can edit your transcripts while they are in live transcription.
To get all of this, you just need to get this tool and set it up with 3 very simple moves and those are: download the tool, choose your preferred language and the audio device and there you have it! The only important thing worth mentioning is that this tool offers transcriptions, not translations so your video and audio files will be transcripted, not translated into another language. Transcription is the specialty of this tool so everything will be transcripted in no time!
Conclusion
In this article, we have talked about a tool that can help you transcribe all your video and audio files in multiple languages in real-time and we have concluded that it has many benefits that can help you in multiple situations. This tool can help you during your meetings while listening to podcasts or even while learning a new language, the purpose this tool has is immaculate. If you want to be amazed every single day and be able to transcribe your files in multiple languages then you need to get One Transcriber.