Icons are a vital element of web design. A user can explore your website, buy something, like something, share something, and so on by using an icon. Creating icons for every project might be difficult because there are so many icons available online, but as it is with everything in today's digital age, there are a few extremely helpful tools you can use to make beautiful icons and share your work with other people.
We chose ten great icon makers, ranging from free simple tools to more complicated professional solutions. Using any of them, you can easily create lovely icons for your web projects. So, let's get started and take a quick scenic icon route.
IcoFX
IcoFX supports PNG-compressed Vista icons, and it works just as well on Mac as it does on Windows, but with a caveat. If you want to create Windows icons, you must first convert a Mac icon. On the whole, it offers features such as assembling icon collections, favicon creation for blogs or websites and creating icons from photos. When creating more than one icon, it's also important to note that you can do batch import, export, and extract processes.
It also supports multiple languages and comes with over forty effects, including a custom filter. Some of the best effects it offers are brighten/darken, blur/sharpen, and transparency adjustment tools. While it doesn't have as many features as the next pick on this list, it is completely free. So, if you're looking for a budget-friendly option, make sure to check it out.
Adobe Illustrator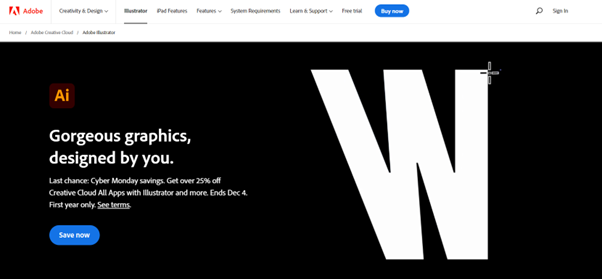 You can use this icon maker to build whatever shape, size, or color you choose with a variety of tools, and you can either choose a preexisting icon to customize r start from scratch. With Adobe Illustrator, the options are unlimited. Users can purchase a professional version of the icon maker for $21 per month. However, it is worth mentioning that Adobe Illustrator is not recommended for novices because of its sophisticated user interface. Fortunately, you can now take Adobe Illustrator courses online that will teach you everything there is to know about icon creators' capabilities, possibilities, and general usage.
SoftIcons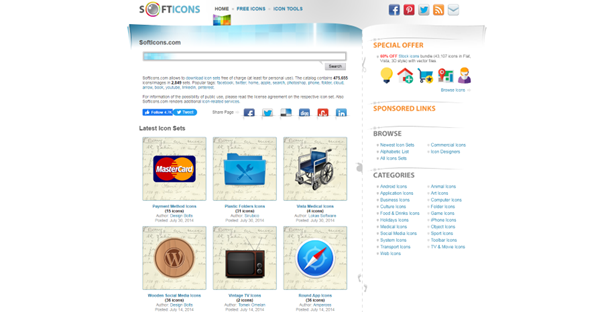 SoftImages can be used to make icons from images. It's fairly simple to use and best suited for quick icon generation and customization. Click the Browse button to upload the photo, then choose from a variety of sizes and color schemes. Apply the remaining options, such as crop and proportion, as well as the effects sharpen, grayscale, and invert. Lastly, press the Create button. The Windows Icon file and the PNG icons can both be downloaded by right-clicking and choosing "Save Picture As…" from the context menu. It's simple, it's free, and it's fast.
Greenfish Icon Editor Pro
Greenfish Icon Editor Pro is simple to use, lightweight, and portable (no installation required). It also supports the drag-and-drop of files supports multiple languages. One of its greatest advantages is that it makes use of dynamic color depth. Generally speaking, Greenfish can open and work with the following file formats:  ICO, CUR, ANI, PNG, XPM, BMP, and JPEG.
Shiny Icon Maker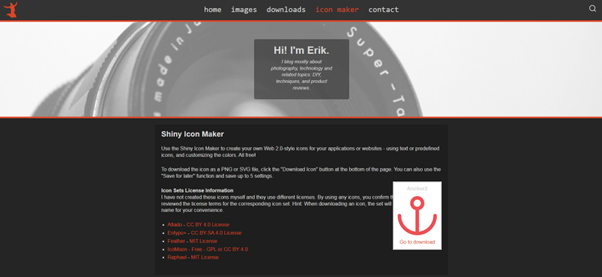 Shiny Icon Maker is another one of our simpler choices, but great for those that may need a little extra help.  There are many different icons available, and you can change their background form, color, shadow, and other attributes as you see fit. Letters can be used to create icons as well. After the customization process is complete by selecting the "Download Icon" button at the bottom of the page, you can save your icon and use it wherever you want.
IconDeveloper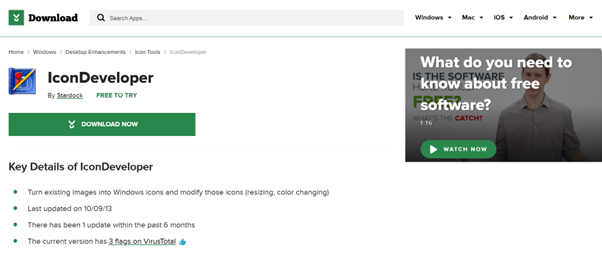 With IconDeveloper you can create and edit small and standard-sized icons, as well as scale icons to different formats. Icons can be made from PNGs, and you can also edit icons in Windows XP format. If you need to convert photos into icons, you can do so by using the right-click menu and copying and pasting images from the clipboard. The free version is fairly simple, but it's enough for most. However, if you like the way it works, you can always opt for the pro version to unlock more features.
Iconsflow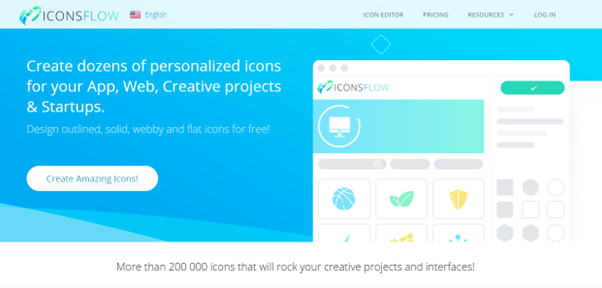 Iconsflow is a web-based icon maker. It's quite versatile and allows you to either create icons from scratch or start with a template. You can make 2 sets of 5 icons each as a free user. If you want to create more, you will have to purchase a subscription plan. Its best feature is the flexible color palette that allows for some really unique designs.
Flaticons.net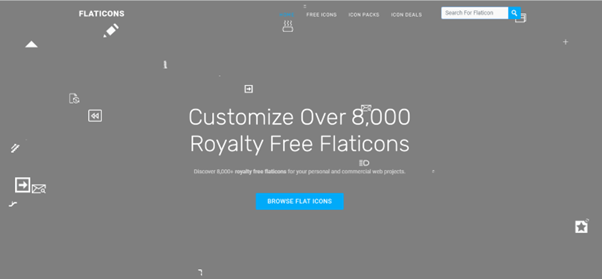 FlatIcons.net allows you to quickly generate your own free stock flat icons. To download the free flat icon as a png file, simply select an icon shape from the more than 8000 available and customize it to your heart's desire. The customization options are a bit limited, but with that many royalty-free options, you're bound to find something you like. Just like our previous recommendations, this tool is best suited for those looking to create something simple and want it done quickly.
Iconion
Iconion is not among our simple and quick recommendations; it's a full-fledged feature-full icon maker. It's also not web-based, meaning you will have to download the software in order to use it. It's overall a great tool that offers virtually infinite shapes, designs, and icons. The provided tools make it simple to modify anything and create an icon that suits your tastes. Any icon font containing symbols can be made into whatever you want with Iconion. It's the ultimate icon creation tool. The only reason it's not placed higher on our list is the fact that it's the most expensive tool on it.
IConvert Icons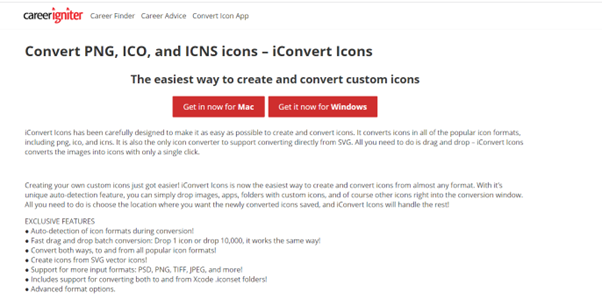 You can make and convert icons from images with IConvert Icons. Its main function is to convert from many other popular image formats to ICO, including PNG, SVG, JPG, and Windows ICO to Mac OS X icons. All of the online processing is done immediately once you upload an image. The customization options are few and far between, but, once done you can download your icons in a PNG format and in a variety of sizes.